Hello, Lucy here again, with the third award in my 2013 Betting Oscars bash. 🙂
Now we move on to the 2013 Oscar for the Best Football System, as voted for by my readers.
And, for the third day running, the readers of Lay Back And Get Rich have voted for a product that's already been extensively reviewed on my site…  yes, please put your virtual hands (!?) together for BetGreen!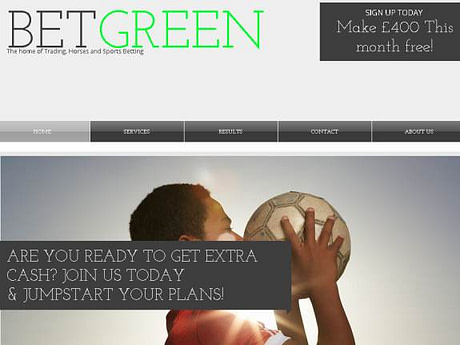 Now, as is my way with these things, I let the proud winner know about the award a couple of days ago, and asked for a few comments by way of an acceptance speech.  I duly received the following typically enthusiastic response from Ryan.

"OH GOD!!!"

To which I was tempted to reply, "No, it's just me"….

"Wow! That is amazing, I can't believe I actually won!"

Yep, he was pretty happy!

He then composed himself a bit to add: "There are so many good tipsters and traders out there. I am really grateful for everybody that voted for me, I will work hard to keep up the good work and get more people trading and increasing their incomes!" 

You know, when you give out awards, that's the kind of response that, deep down, you're really looking for. 🙂  So I was pretty pleased for him.

When I asked my readers to think about this year's awards, I was expecting, like last year, to receive votes for a whole slew of products I'd never heard of before.  But this time it just hasn't been the case. I will feature one or two unfamiliar products over the next few days (she says mysteriously!), but, so far, it's all been about products we already know and love.

I personally trialled BetGreen during the second half of last year (and distinctly remember writing up the trial conclusion on New Year's Eve, with my wet hair still wrapped up in a towel prior to a big family do!), and found it refreshingly straightforward and fun. I probably was unduly cautious with my staking, but still managed to grow my betting bank by 28%, and found Ryan's breathless support to be always available and, well, breathless. 🙂

In summary therefore, I believe Ryan's award is richly deserved, and would like to add my personal vote to those of all my readers who awarded BetGreen the accolade of the 2013 Best Football System.