We're nearing the conclusion of my 2014 Betting System Oscars…
This week I have the pleasure of awarding the Oscar for Best Horse Racing System….
So, ladies and gentlemen, without further ado, I hereby announce the winner of the 2014 Oscar For Best Horse Racing System, as voted for by the readers of Lay Back And Get Rich…
Yes, once again, for the second year running, the winner is…..
……..the evergreen….
…………..Little Acorns!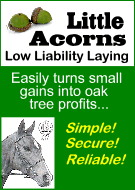 I let system provider Andrew David know the news of the award just yesterday, and this is what he had to say….

"'Delighted' is the only word on hearing the news that Little Acorns has scooped the Best Horse Racing System Award for second year running, especially from a great review site such as Lay Back And Get Rich.

[Ah, flattery, it may be cheap but hey….] 😉

"So again a big thanks to all those voted! One more win and Little Acorns has equalled Istabraq's Champion Hurdle Record – now wouldn't that be nice!"

I also specifically asked Andrew about whether there have been any recent improvements to the product. Well, I suppose he was always going to say yes… 

"This year has seen some excellent additions to the Staking Section of Little Acorns, with one staking plan in particular performing really well and above expectations. 

"I've also added a section on how to reduce the chance of losing runs for those who are more risk averse and want to build their banks more slowly but surely. All in all, the complete package to cater for everyone's attitude to risk.

"As we all know, the battle to obtain the edge from this game is not an easy one, however adopting a well thought out methodical approach based on accurate historical data has proved it can be done if you're disciplined enough.

"I've also developed a Bonus Place Lay method that's proving a nice little earner. Anyone placing an order for Little Acorns via Lucy's site can avail themselves of this bonus for FREE. Just contact me after ordering and I will fire it over to you".

I then asked Andrew what sort of long-term returns he believes are possible with his product. He was characteristically positive about that too.

"I think the following email from Patrick who's a long-term LA follower best describes what the method can achieve long-term;
"I have been enthusiastic about Little Acorns ever since I bought it. I started with a low target and built this up to £100 per day. I do love the low liability of this laying system. Since January 4th I am showing a profit of £6074.25.
"This is not even from betting every day (e.g. I don't bet when on holiday). My total winnings since April 1st 2010 are £32,084.75, starting with a £30 target, increasing to £60 and then £100." 
There seems little doubt that Little Acorns has a loyal following of long-term users, who are prepared to stick with the system through thick and thin, as they believe in its power to deliver valuable capital growth.
It's not without its critics, as a quick browse of the ninety comments currently sitting at the foot of my 2012 trial conclusion will tell you.
But its longevity and popularity with a wide range of punters should make us all stop and think for a moment.
In my opinion, and more importantly, the opinion of the voters here at Lay Back, Little Acorns is a worthy winner of the 2014 Best Horse Racing System Oscar.