Welcome to my first Betting Systems Oscars ceremony!
Today, I'm handing out my first Betting Systems Oscar and in a new category too, so it's doubly exciting!
When Lucy introduced the "Best Betting Bot" category in 2015, Lay Back & Get Rich readers voted for Bet Angel as their winner. Fairbot won in 2016 and now we come to 2017…
But…
Are either of these really betting bots?
When I think of a "betting bot" it's a piece of software which runs an automated system, rather than the more traditional trading software such as Bet Angel and Fairbot.
Yes… I know that both can perform automated tasks, but I wanted to know which readers of Lay Back consider the very best of both worlds.
Also, I want to see the likes of Bet Angel and Fairbot fight it out with all the other trading software out there, toe-to-toe, so we really find out which is most popular.
So… this year I have both "Best Betting Bot" and "Best Trading Software" Oscars to give away.
And today we kick it all off with Best Betting Bot!
So…
Did the bot you voted for end up as the winner?
Will you be seeing this shiny award badge on their website soon?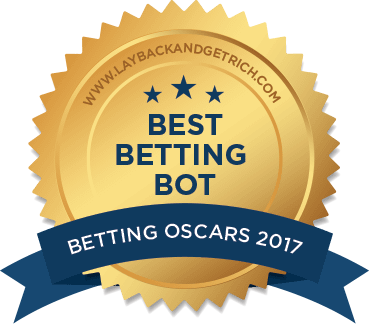 I'm excited to announce that the winner is…
And now you can get a 21 day free trial! Read on for details…
Lucy trialled Bf Bot Manager in 2015 and gave it a resounding Pass, so it's great to see Lay Back readers agreeing with her conclusion.
She also praised the support from Rade extensively and he was excited when I broke the news!
Rade said, "We are thrilled to hear this fantastic news! Thank you all!"
"Our software has been on the market since 2009 and over the years we listened to our customers and kept adding improvements that they asked for. Now with this award we are sure that we are on the right track and adding improvements that you need."
"Last year we included historical football statistics for major leagues, optional football in play statistics and more details for horse racing like information on beaten favourites, course/distance winners."
"There are many other improvements that we have added to our software and web site over last few years. Our goal is to keep improving our automated betting services and make sure our software stays best for automated betting."
Wow! It sounds like there's a lot going on over in Rade's office and more to come.
The best getting better? I'm definitely a fan of that!
I'm also a fan of this amazing deal that Rade is offering all readers here at Lay Back.
He said, "We already have large discounts when users subscribe for longer periods of time, but what we can do is give your readers an extended trial. Our standard free trial is 5 days, but we will extend this to 21 days for you."
That's pretty amazing, right? You can try out the "Best Betting Bot" for 21 days absolutely free!
Click here to get your 21 day free trial started
The next Betting System Oscar to be awarded will be for "Best Matched Betting Service" so stay tuned!