Welcome back to the 2017 awards ceremony!
I have counted all of your votes and today I'm handing out the award for "Best Matched Betting Service"
This award started life as "Best Arbitrage Product" in 2012 as Mike Cruikshank's Bonus Bagging earned the most votes from Lay Back readers. He won again with Bonus Bagging in 2013 before SpyMare ruined his chances of a hat trick in 2014.
However, Mike bounced back in 2015 with his Profit Maximiser service collecting the most votes and the same product won again last year, with the category renamed as "Best Matched Betting Service".
Now we come to 2017 and another hat trick party waiting to happen.
So…
Did the matched betting service you voted for end up as the winner?
I'm excited to announce that the winner is…
Perhaps this is a case of "master beating apprentice" since 70 matched betting services are "powered by" OddsMonkey. As Lucy pointed out in her review, she didn't even know there were that many!
OddsMonkey was immediately placed in the exclusive "Passed With Flying Colours" category and now it has a shiny award too.
When I contacted Paul at OddsMonkey to let him know of the win he said, "we're absolutely thrilled!"
So thrilled, in fact, that he has agreed to give every Lay Back reader 7 days of Premium access for £1!
You will need to be quick though. Read on for details…
In true "Oscars" style, Paul started his acceptance speech with…
"At the risk of being hurried offstage by the orchestra, there are a few people I'd like to say 'thank you' to…
"For starters: everyone who voted for OddsMonkey! It's a great honour to win the title of 'Best Matched Betting Service' from the Lay Back readers, so thank you very much. We've worked hard to build a service that anyone and everyone can use – from people who've been matched betting for years, all the way down to someone who's never even heard of it before!
"To all our lovely members, past, present and future – thank you for your feedback, suggestions and for picking OddsMonkey as your matched betting service of choice. We really love what we do and want to make sure we really can provide the best matched betting service, in terms of tools, support and value for money.
"I'd also like to thank the OddsMonkey team for their hard work over the last year and a half. It's gone from a one-man operation to a full and lively team of matched betting experts, developers, content creators and customer support. I'm really proud of what we've created so far and what we're continuing to put out there for our members.
"The last year and a half has been huge for us. We've taken OddsMonkey from 'just' the OddsMatcher and calculator to a full matched betting service, adding tools like Acca Finder, the Each Way Matcher and Acca Builder. We've also beefed things up on the support side too, with our manned Community, video guides and one-to-one training sessions. The feedback we've had has been amazing.
"Things aren't slowing down for us either. We've just unveiled Profit Tracker, which is available to all OddsMonkey members – Free and Premium – and that followed hot on the heels of our lay bet integration with Betfair and discounted Betfair commission offer.
"We've come along way since OddsMonkey started in 2011 and we've still got lots to go, so watch this space…"
Don't worry Paul, we're watching that space!
As with Rade's promise last week to keep improving the Best Betting Bot, it's great to see another commitment to keep on innovating.
And so for that special trial that I have arranged with Paul.
If you would like to give OddsMonkey a go (with full access to everything) for just £1, click here and use promo code LBAGR-OSCAR when you checkout.
(offer ends 20th October 2017 at 23:59)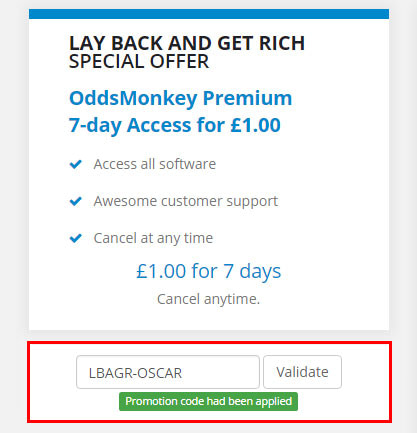 The next Betting System Oscar to be awarded will be for "Best Horse Racing System" so stay tuned!