Wouldn't it be great if an odds comparison website listed free arbitrage opportunities in ascending order of value?
And wouldn't it be even better if you could then just click through to the games in question and put on your bets at the bookies?
And in a dream scenario, wouldn't it be cooler still if the same site allowed you to work out what size your stakes should be?
Well, there is a site that does all this and a fair bit more besides.
You don't have to sign up to anything.
And it doesn't cost a dime to use.
Let me explain….

I've had a lot of emails from readers pointing out that Oddschecker no longer publishes "book percentages" on their website.
Now, the reason they keep writing to me about this is that my free ebook explains at some length how you used to be able to go to Oddschecker to find out whether or not any given football match represents an arbitrage opportunity.
Well, you can't do that any more as Oddschecker have stopped publishing match-by-match 'total book percentages' – i.e. the value of the total best odds quoted on any sports event.
This information was very helpful as a number lower than 100% highlighted a risk-free trading opportunity.
However, it turns out there is no need to be concerned. Because what Oddschecker have replaced this feature with is, in many ways, even better than what they had there before.
You are now able to go to a single page on their site that sorts all potential arb opportunities for you into ascending order of value.
Just take at a lot at the graphic above. It is a snapshot of the best value football arbs currently available on the entire Oddschecker site.
It can be found in their tremendously useful market reports section.
At time of writing, there are some very appealing arbs, including one on a match between Walsall and Shrewsbury with a remarkable 5% edge.
Clicking on it takes you to a more detailed page that highlights in bold text the bookies you should use.

You then click on the bold odds to be transferred to the bookmaker sites to put on your bets.
You can even work out the correct stakes to use without leaving Oddschecker.
Just go to their calculator page, select 'Dutching', and key in your odds… and your stakes will be calculated for you.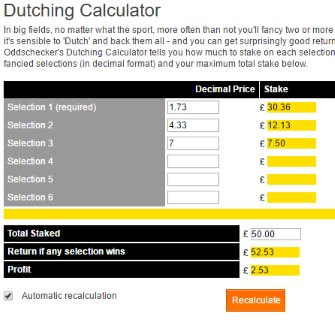 That said, long-term readers will know that I strongly recommend you round your stakes when carrying out arbitrage bets.
Putting on bets to precise values in pence is a certain way to get your accounts closed.
And it's easy to calculate smooth arbs with the free Windows Arbitrage Calculator.
You can get hold of that by visiting a post I wrote on the subject in 2011.
It's as neat a tool now as it was then.
Happy arbing!
Lucy
ps why not have a quick read of my free ebook on making £1000 per month from betting? It is easy to follow, and you can get a copy now just by clicking this link!