As soon as you introduce the subject of trading, a lot of punters get worried.
It just sounds so complicated.
Isn't trading really just a strategy for high rollers, or perhaps sophisticated City types who can understand and predict the vagaries of the market?
Well, of course, it helps if you have access to a huge bankroll, and vast cloud computing resources running expert systems.
But really it needn't be that difficult. And I intend to prove it in this article.
Before I begin however, I must stress the obvious.
There are no certainties in the marketplace, and what I'm going to propose is NOT risk-free.
So if you're not comfortable with at least a degree of risk, please read no further.
However, what I'd like to propose is
low-risk
likely to make you money in the long run; and
carries no transaction costs.
Better still, it contains a degree of insurance in the event things go wrong.
Interested?
Good. 🙂
This trading strategy exploits three features of the UK's daily horse racing markets.
Betdaq's remarkable 0% commission offering on the first UK horse race of the day in 2013
The Best Odds Guaranteed (BOG) promise made by many major bookmakers.   (And if you don't know what BOG is, please see my FAQ page)
The very small (often non-existent) gap in prices between the bookies and the exchanges at the short end of the market.
Essentially, all we are aiming to do is trade short-priced steamers in the UK's first race each day.
To do so, we back a promising horse at a BOG bookie, and lay it off at Betdaq, for a risk-free punt on one of the favourites.
Take today's opening race as an example.   It was the 1.25 at Market Rasen, and, half an hour before the off, the prices at Oddschecker.com looked like this.

Our interest is limited to the two or three shortest-priced horses.   If any of them can be backed at a BOG bookmaker at at least the same price for which it can be layed at Betdaq, it is a possible selection.
This happens a lot more often than you might expect.  Very often, bookie prices at the short end of the book represent excellent value.    The much-vaunted pricing benefits of the exchanges are much more noticeable on longshots.
So… In today's race, Oyster Shell could both be backed at Paddy Power, and layed at Betdaq, at 2.1, so it passed our test.
You can tell whether a bookie offers BOG pricing from the presence of a green tick immediately above its name on the Oddschecker screen.

The second step is to check the price/volume graph for our selection.
Now this is a more of a judgement call, but essentially I'm looking for a steep decline in the horse's price in the run-up to the race.
Once again, Oyster Shell passed this test.   If we look at the Betfair graph (sorry,old habits die hard!) for our horse, you can see that the price trend has been steadily down for some time.    This is a very strong trend.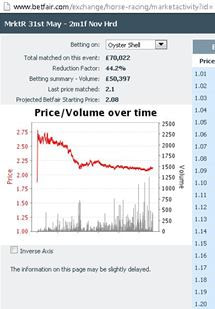 Now I don't propose to write a thesis about trend following, but instead would encourage you to 'go with your gut'. If you're not convinced that your selection is trending downwards, don't trade!
If however, you'd like more information on trend following, the following video is a good introduction. It talks about stock trading, but the principles are just the same.
OK, so we have decided that Oyster Shell is trending downwards.  All we do now is back him at our BOG bookie, and lay him for precisely the same stake at Betdaq.   
We don't have to worry about over-laying to cover commission, as none applies.
But… what price should we lay him at?
I select odds of 90% of the back price.  Which is calculated as follows:
LAY PRICE = ( ( (Current back price MINUS 1) * 90% ) PLUS 1).
Thus, in the case of Oyster Shell, the target lay price = 1.99 =  (((2.1 -1) * 90%) + 1).
I have put together a simple spreadsheet here to work out the lay price for you.
Finally, I set the "Keep In-Running" option on my lay bet, to ensure that my lay bet will not be cancelled by Betdaq if it hasn't been matched before the off.   In most cases, my lay bets get matched before the race, but if not, they will now almost certainly be matched in-running.

It is of course possible that your lay bet may not be matched in-play, in which case you may lose the entire value of your back bet.   However this is very unlikely.    Favourites trade freely in-play, and a 10% reduction in price will usually be quickly lost in the 'noise' of in-play punting.
However, if the possibility of a total loss bothers you too much, you are trading outside your comfort zone and must reduce your stakes.
And that's it!   A simple strategy for trading favourites on one UK race each day.
And the insurance I mentioned?
Well if we are unlucky with our trend, with the favourite suddenly beginning to drift not steam, our BOG bookie is likely to allow his price to drift too, thereby covering our increased exposure.
You even get days where the back price drifts; the lay bet matches in-play; and your horse wins and pays out far more than originally expected, owing to the widened gap between the two sides of the trade!
So how did it go today?
Oyster Shell traded in-play well below 1.99 (and was matched as low as 1.26 on Betfair), so my lay bet got matched for the same stake as my back bet.
Unfortunately, he could only finish third, which produced a neutral outcome.   i.e. I won the same amount at Betdaq as I lost at my bookmaker.
Lucy x
ps why not instantly download my free 30-page now FORTY-THREE PAGE ebook on making £1000 per month from betting systems?  The methods are all low-risk and re-usable, so click here and get it now!