I am always encouraged when a service provider feels confident enough to approach me to request a trial, rather than the other way round.
And this is the position I find myself in today, on account of an email from one Sergei Pochinok (hope I've got that right), to describe his appealing, if oddly named, new arbitrage service, Betburger.com.
And I can see why Sergei is so bullish, as first impressions are very good.
Welcome then to 'Surebets as Investments'…
Welcome to Betburger.com.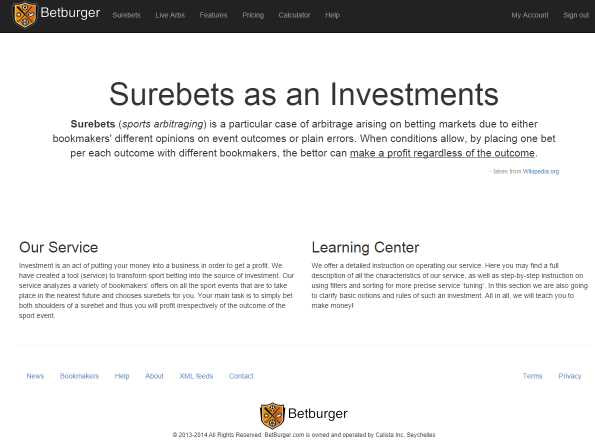 So what's so exciting about Betburger?
Well, first of all, it just looks great.
The site has a lovely clean look and feel, and is quick and easy to use.
Secondly, and more importantly, it produces an awful lot of arbs. Or 'surebets' as Sergei prefers to call them.
It scans 35 bookmakers, including many popular ones such as Ladbrokes, Hills and Bet365, and generates some really high-value trades.
Look at this list to get an idea: arbs that produce 20% returns!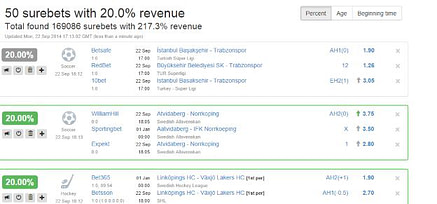 Yes, there are a lot of very high-value arbs here, as the tool is sophisticated enough to exploit Asian and European handicaps: and to provide easy-to-use calculation tools that help you with rounding, outcome skewing, and so on.
In addition, adding in handicaps allows the tool to offer middles: complex structures where "betting overlaps" exist that produce a bumper payday if you're lucky enough get the right result.
If you're not quite sure what a middle is, think about those Venn diagrams you had to draw at school, and you'll get the general idea.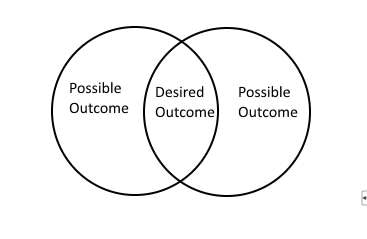 Potentially the product may also offer inverted middles, (a sort of high-value lay bet that any product that can handle handicap arbs should, in principle, be able to supply), though I have yet to find any on Betburger.
So… I know what you're thinking… it's all scarily complicated, right?
Well, yes and no.
Yes, these are advanced techniques.
But no, because the Help that comes with the product also looks, well, rather helpful.
There are some excellent graphic explanations too, produced to a good level of detail.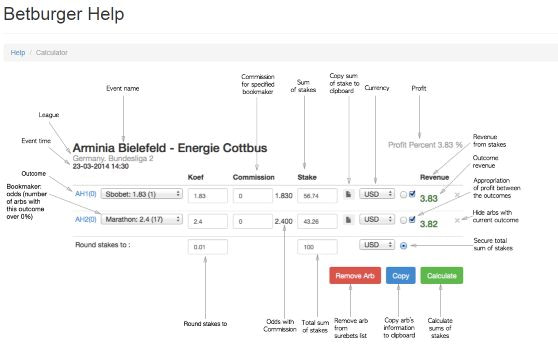 In short, I really like the look of this.
So I'm looking forward to seeing how it performs in practice.
Here's hoping Betburger.com delivers with relish – and extra fries! 🙂
Lucy
---
Hello, IanW here with a report on the intriguingly-named Betburger – snack while you bet, perhaps!
Lucy's introduction above is very enthusiastic and so was I as I got started!
Some of the arbs it throws up are amazing. You won't want to even look at anything under 10% – and probably nothing under 50%! – but such rich rewards don't come for free!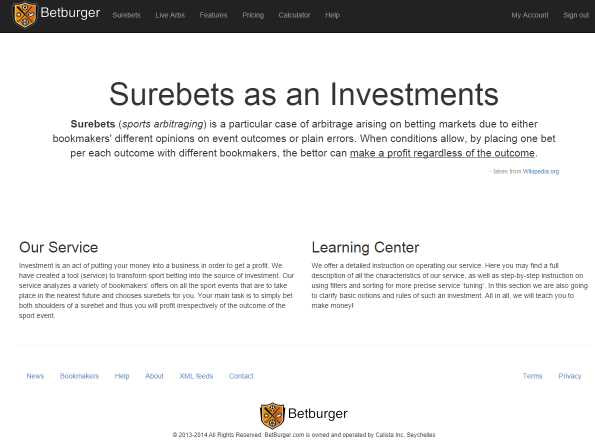 Site for sore eyes
Let's look at the site itself.
The most eye-catching thing about the home page is the blurb – Surebets as an Investment – suggesting you might consider this as a better way to invest your money than the Dingley Dell BS. That's Building Society.
The software is browser-based so you can use it with any computer.
There are a wealth of functions and options here. Unfortunately the instructions are dismal.
I believe the site was developed in the Ukraine (although the company is registered in the Seychelles) but the problem isn't particularly with the English translation – it could be much better but I've seen worse – but the lack of simple instructions to help you use the site.
The main page says there's a Learning Centre which offers 'detailed instructions' but there's no such page.
There is a Help page with inadequate instructions which I'll comment on as we go along.
First let's set up the system for use.
Brought to bookies
One of the really great things about Betburger is the ability to select the bookies you want to use for the arbs. No point having arbs pop up for bookies you don't have an account with or who have shut you down for winning.
It currently lists over 100 bookies and seems to add new ones every now and again. However, there were only 59 in My Account to choose from and it didn't include some popular ones such as 32Red, 888Sport, Apollo Bet, Betbutler, Betbright, SkyBet, Vernons and Winner to name but a few.
It does, however, helpfully have a Bookmaker Clones list so you know that 888Sport and Unibet are the same, as are BetDaq, 32Red and Ladbrokes Exchange.
And then the Ruble dropped. You select a bookie from the bookie clone list to appear in your Selected Bookmakers list. A little information to that effect would have been useful…
Missing nowt
To see if I was missing out using only my dozen selected bookies, I activated all the bookies and, yes, the odd Surebet (coming up) popped up using an obscure bookie but I didn't feel as if I was missing out.
It was harder to tell with the Live Arbs (coming right up, too) as they change and update every few seconds, literally. You can switch off the Auto Update feature but you could then be looking at an arb which was no longer available.
Other great options include the ability to set different currencies for different bookies (useful if you have accounts in different currencies) and commission rates which are then applied when the system does its sums.
Another brilliant feature is the ability to specify a default bet amount and rounding setting. These are used in the Calculator which tells you how much to bet at each bookie although you can easily change both manually.
Round to a penny
If you round to 1p you'll get the most accurate arb but bookies will quickly spot you as an arber.
I used a £10 default and rounded to 50p but some bets suggested amounts like £6.50 and £3.50 which might also be considered odd.
In this case, changing the default to £11 produced £7 and £4 which is probably a little better although the more you round away from the optimal value, the more lopsided the arb will be – i.e. one outcome will win more than the other.
Still, it's probably worth considering to stay under the radar for as long as possible, and a win's still a win!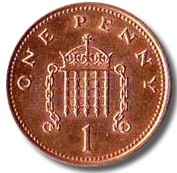 Arbing on
There are two arb options on the site – Surebets and Live Arbs.
However, when you look at the pricing options for the service there appear to be three options:
Pre-Match – this gives you Surebets and Middles on future events
Live Arbs – this gives you InPlay Arbs and Middles
Pre-Match + Live Arbs – both the above.
Pre-Match bets seem to be called Surebets.
InPlay Arbs? I'm guessing that's Live Arbs but wouldn't it be nice to maintain some sort of consistency to minimise confusion?
The main difference between a Surebet/Pre-Match bet and a Live Arb/InPlay Arb is that the Surebets are for games which are hours or days away.
The Live Arbs are for games that are in play or due to start quite soon.
I confess I found the speed with which some of the Live Arbs changed, updated and disappeared too fast to track, and I doubted I'd be able to put any bets on in time before they disappeared.
So I concentrated on the more sedate Surebets.
However, even if the Surebet events were taking place a few days hence, they weren't all lounging on Zimmer frames. Many did vanish within several minutes but most hung around much longer, often for an hour or more.
Fair to Middling
So where are the Middles?
They don't have their own page but appear in the Surebets scanner along with the Surebet arbs.
They're indicated by a little orange square to the bottom right of the % indicator which shows how much return the arb should make. A number in the box shows the value of the Middle. Actually, if you hover your mouse over it, a little pop-up appears saying "Middle value equals N" just to make things clear. Quite!
Of course, that assumes you know what a Middle is. As the site doesn't tell you, check out Lucy's explanation here.
Exotic local
Many of the arbs Betburger throws up are exotics – bets such as Asian and European Handicaps, Double Chances, one team to win with a so-many goals/points advantage and so on.
The site doesn't explain what these are, either. The situation is further complicated because not all bookies use the same nomenclature so it's not always a straightforward business trying to confirm that the bet you're about to place is, in fact, the bet suggested by Betburger.
Open sesame
When you see an arb you like, you click on the Calculator button which opens the, er, Calculator window, populated with your default bets. Here you can refresh the odds and change the bet amounts.
Another great feature of Betburger is that when you click on a bet in the Calculator it tries to open the bookie's site at the correct page for placing the bet.
This, apparently, is very difficult to do from a programming perspective. Sometimes it opened the correct page, sometimes it simply opened the bookie's site, sometimes it opened the bookie's Russian site and sometimes the site didn't open at all.
It would be nice if it could tie the bookies' sites to your country but still, having some help here is better than none.
Anyway, to business.
Surebet – sure thing?
As I looked at the % returns for some of the arbs and wiped the saliva from my keyboard, I attempted my first Surebet, confident I could decode the exotics and find the odds buried deep within the bookies' sites.
My first attempt was a 17% 3-way arb on a footie game due to be played in three days time: Husqvarna FF v Syrianska.
It was a straightforward arb, with separate bets on each team to win and the draw.
That went well. 17% up.
The second bet, however, didn't go quite to plan.
It was Bayern Munich v Borussia Dortmund. One bet was Dortmund Home No Bet. The other was Dortmund 2 Way.
Now if I'd had my analytical hat on – or just some common sense! – I'd have realised that both bets were on the same team and, even if I didn't understand the exoticness of the bets, they were very unlikely to arb.
And they didn't.
The software got it wrong and I was too dumb to notice.
Third time lucky
The third bet included a Double Chance bet for a nice 70% profit. Yes, this is the way to bet!
The fourth bet was on an American football game but it didn't seem to make an allowance for the draw. But one side did win so hooray there!
At least it would have been hooray except Coral pulled a palpable error and reduced the odds on the winning bet, making the overall bet a loser.
Never mind.
Here's another nice bet, a basketball game – Sionista v La Union. Clock up a 49% win.
Switching sides
And, here's another three-way bet. 62%. Wow! I wade through the sites looking for the exotics, find them, put on the bets. Luverly stuff!
Hmm… All the bets are for the same side again. That can't be right. Double check the Calculator. Yep, that's what it says. I refresh the prices. Yep, still correct.
I dig a bit deeper into the obscurity of Asian Handicaps. Nope, this bet isn't going to work.
I refresh again. Ohhhhh! The last bet switches sides! It finally shows the correct bet which was for the other side at different odds.
Now if I make a mistake putting on a two-way bet, I can usually fudge my way out of a dire losing position by hedging and laying off the mistake so, at worse, I greatly minimise the loss.
Three-way bets are a bit more tricky, complicated by the fact that I'm not 100% sure just what the winning/drawing/no bet/ refund situation is. So I figure my best option is to leave it.
Well, it probably wasn't the best option and with hindsight I could have tried placing the correct bet but my confidence in the system was waning and there was the possibility that this newly-calculated bet would be wrong, too.
Anyway, I left it and, of course, the other side won so all three bets lost.
Lessons learned.
Crystal balls
Here's another – a Surebet scheduled for 2nd November.
It was already 3rd of November, so I'm guessing it already knew the result and bets don't get more sure that that!
However, opening the Calculator revealed that the event was due to take place on the 8th.
And so it continued. A few wins a few, incorrect calls, a few losses.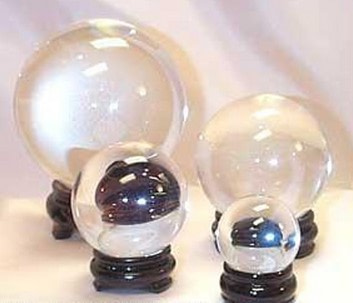 What's in a name?
Here's another one offering 56.81% – La Bruixa d'Or – Bilbao Basket [with OT]. This is a straight two-way bet – Team1 wins v Team2 wins. Two bets at Bet At Home and Coral.
I click on the Calculator button. Up pops Assignia Manresa – Bilbao Basket. Is that the same game? I've no idea.
And, wait a minute. If it's Team1 vTeam2, what happens if there's a draw? It must be a handicap but there's no mention of that in the system.
Clicking on Bet At Home in the Calculator only brings up a blank page but clicking on Coral – hooray – produces the correct page complete with the Spanish basketball odds. And it shows it's a handicap which it doesn't say in the Calculator or main Betburger page.
Let's try a small wager and see if it gets it right this time. Only I have to wait 5 days till the game's played to find out.
And it was worth the wait. Kaching – another 56.81%.
Don't bet on Victor
Here's a one with 28%. French Basketball – Chalon v Gravelines-Dunkerque, only two bookies but another exotic.
Bets on.
Half an hour later an email from BetVictor – another palpable error and that part of the bet's cancelled. I decide to let the other half ride, not knowing exactly how to lay it off, or even if it's possible to lay off. It's a very small bet.
Yes, time for a little luck on my side – the remaining bet won so that was a 275% gain instead of a 28% gain. But that's no way to do business. More of the P&L of it in a moment.
Undeterred – the triumph of hope over experience – I try again with a straightforward footie match – Slavia Prague v Hradec Kralove – a discrepancy between Over/Under 2.5 goals which should yield an 11.45% profit.
Except the game's in five days time so it's another waiting game.
And that was my last bet in the Betburger trial so I don't yet know the result. Or if I'll get hit with another palpable…
Time for an accounting
My total runs thus:
Bets: 20
Return: 17.4%
That's a rather amazing return for an arbing system, given than most traditional arbs only return a few percent.
And given the fact that several arbs were losers although there were a couple of lucky wins there, too, which boosted the return.
Having said that, if the arbs had gone as they should, the return would have been much, much higher.
We don't want your first-born
So how much does this miracle of software engineering cost?
As with most subscription services, they discount the price the longer you sign up. Here's how it pans out for the three options discussed earlier:
| | | | | | |
| --- | --- | --- | --- | --- | --- |
|   | Day | Week | Month | 6 Months | 1 Year |
| Pre-Match | €5.99 | €24.99 | €79.99 | €389.99 (€64.99/month) | €659.99 (€54.99/month) |
| Live Arbs | €10.99 | €44.99 | €149.99 | €719.99 (€119.99/month) | €1259.99 (104.99/month) |
| Pre-Match + Live Arbs | €14.99 | €59.99 | €199.99 | €859.99 (€159.99/month) | €1679.99 (€139.99/month) |
Note that the prices are in Euros.
Currently the cheapest option – one day of Pre-Match arbs is about £4.75 plus whatever your bank adds on for the privilege of holding your money. The top subscription is around £1320.
Still reading…?
If you've read this far you should be getting a mixed impression of frustration and confusion mingled with occasional and sporadic bursts of delight. A bit how I live my life, really…
If you've dabbled with Asian Handicaps, European Handicaps, Total Goals and exotics such as Home No Bet, Exact() and Double Chance, you'll lap this up.
No, not quite right. To get the most out of it you need to be on first name terms with them all and know where to find them on bookies' sites.
Not only that, you'll have to be prepared to take some palpable hits (little Hamlet joke there for any Shakespeareans out there) so be prepared for that and know how to lay off the other half or third in case it happens. Which it probably will.
But make no mistake, there is undoubtedly oodles of money to be made by arbing exotics. You might be able to fudge along as I have but if you know about these things or are prepared to put in the work to become familiar with them, you could do very well indeed.
Conclusion
Ok, I admit, if I'd brushed up on my AHs, EHs and Middles first, I may have fared better but, really, if you're going to give people arbs the least you can do is to make sure it's 100% clear what the bets are.
A bonus would be clear instructions and explanations of the arbs, although you might argue that Betburger is for people who 'know what they're doing'. Fair enough, but if that's the case, say so clearly and don't promote it as an alternative to financial investment.
Yes, and it would help greatly to ensure that the bets the system calls are correct!
I can't believe any arb service could fail to make it into the Passed folder, but this one came so very close to going in into Neutral.
In terms of ease-of-use, accuracy, helpfulness, and clarity of arbs, I think I'm being generous.
But don't let that put you off. 🙂
No, really.
If you talk about Asian and European Handicaps in your sleep and understand the massive profit potential of arbing between them then you will absolutely love this. Just double, triple and quadruple check all the details before you press the Place Bet button. You could make a small fortune.
But if my experience sounds too much like a roller-coaster ride for the 'safe' side of betting, either learn the exotics or steer clear.
IanW