One of the oddities of betting is that it is almost everywhere regarded as a winner-takes-all business.
For instance, most betting services aim to predict winners.
Yep, even all these years after Betfair was founded, there are far more backing services than laying ones.
And there are even fewer pure trading products.
Of this latter group, those that do exist tend to be comprehensive (for which, read 'daunting') services that aim often to turn you into a full-time trader.
But very, very rarely do you see what I would call a 'strategic tipping' product.
Or, put another way, a hedged tipster service.
But I'm sure that the idea would hold great appeal…..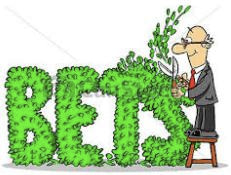 I often come across situations where I feel the favourite has been priced just a little bit too short.
However, I don't wish to lay it outright as I think it will still probably win.
Lots of football matches fall into this category, particularly where one of the top teams is playing an underdog.
There are a number of examples in the Premier League this weekend:
Crystal Palace v Manchester City
Everton v Swansea
Middlesbrough v Chelsea
In all three of these matches, I expect the team higher in the league to win (i.e. Manchester City, Everton and Chelsea).
But their prices on Betfair all seem a bit on the short side.
City are priced at 1.57, Everton are at 1.59 and Chelsea are available at 1.58.
Although I accept that all three are favourites to win their games, I wouldn't be surprised if any of them drew.
Of course, they may even lose though that would be a genuine shock.
So how about this idea?
Why not bet on the three possible match outcomes (win/lose/draw) in such a way that the draw option is favoured but a win by the top team produces a level outcome?
i.e. We could set our stakes up such that, if the hot favourite wins, we aren't out of pocket. But we are still siding with the 'value' end of the wager by leaning towards the generously priced draw.
Oddschecker calls this approach 'hutching' and even provides a helpful calculator to assist with the maths.
If we look at the Crystal Palace v Manchester City match first, it comes up with the following:

i.e. The calculator is proposing we back the draw at 4.6 for £5, and bet on City at 1.57 for £8.80.
Doing so produces the following outcomes:
If City win, as expected, we break even (selection 3 above)
If the game ends as a draw, we profit to the tune of £9.20 before commission (selection 2)
And only if Palace over-turn the form guide completely and win the game, do we lose (costing us £13.80, as in selection 1).
This approach is much more cautious than simply laying City, which is likely to produce a losing bet. But it still offers us a potential reward if our instinct proves correct that the favourite is under-priced.
Taking the same approach to the other games I've highlighted produces the following bets:
Everton v Swansea:

i.e. The calculator is suggesting an £8.70 bet on Everton at 1.58 and a £5 bet on the draw at 4.4.  
We make money in the event of a tie and only lose if Swansea unexpectedly win the game.
Middlesbrough v Chelsea:

On this occasion, the calculator is proposing an £8.70 bet on Chelsea at 1.58 and a £5 flutter on the draw at 4.2. 
Once again, we only lose if the underdog triumphs. We break even if the match goes to form and Chelsea win, and we profit in the event of a draw.
Summary
I'm not necessarily proposing that you take the bets above.
Instead, I'm just suggesting a more nuanced approach to betting: hedging.
Doing so gives you the opportunity to exploit what you may feel is a distortion in the market prices, without taking undue risks.
Oddschecker's hutching tool is definitely one to have a play with.
Feel free to let me know how you get on with it. 🙂
Lucy