If Mike Cruickshank is known for one thing, it's risk-free betting.
And the remarkable truth is, he keeps coming up with brand new angles.
My favourite product of his, up until now at any rate, has always been Profit Maximiser.
Inevitably therefore, I was keen to get to grips with his latest offering, the somewhat daunting, and rather inelegantly named, Accumulator Generator.
Well, I've had it for about a month now, and am ready to share some general impressions.
So .. has Mike come up with another winner?

My General Impressions…
My overall impressions are as follows:
1. As they say in all good rom-coms, it's complicated.
If, like me, you like to charge into new betting systems like a raging bull in a shop selling only Portmeirion and Denby dinner sets, you may be in for a tough first few weeks.
In my case, the first trade was a complete disaster.
I failed to follow all the (extremely thorough) training videos and instead thought I could skip ahead a few chapters, so to speak.
One failed £50 accumulator later (and why start with a small stake when a whopping fifty would do just as well?!), I decided I really did need to work through the extensive worked examples in a rigorous fashion.
Specifically, I'd not bothered to match my backing stake to the size of my bookmaker's refund offer — which, it turns out, is pretty much a cardinal sin, and something you need to check before submitting any bets anywhere.
There are however similar red lines waiting for you, and the only real solution is to learn how to do it properly as the thing is inherently complicated.
2. It's also quite astonishingly clever.
In fact, I'd go so far as to say that Accumulator Generator may just be the single most sophisticated piece of betting system software I've encountered.
What I particularly like about it is the way the different parts of the system integrate so very tightly.
First, you start by scanning the market for suitable trades.
There's a very nifty piece of software called the Acca Matcher that does this for you.
And it produces pages of juicy-looking opportunities like this one.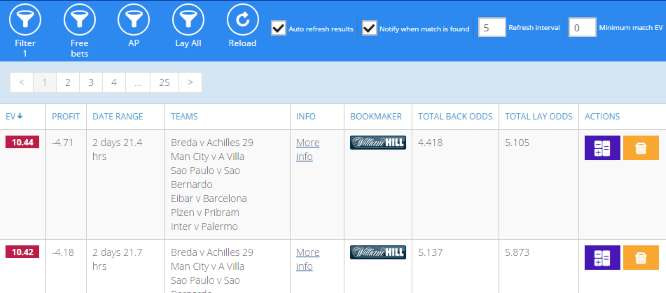 Yep, this remarkable scanner sits and stares out into the betting abyss and locates combinations of football matches and betting offers that are susceptible to the Accumulator Generator approach.
And there are a lot. Please don't ask me how many. But more than any sensible person would seriously want to wade through.
It then sorts them into descending order of value, so you can work through them in a logical sequence. You can also filter out bookies who've banned you so all you get is stuff that's likely to interest you.
You then click on the calculator icon (see the little purple boxes above) and a wonderfully detailed Calculator page pops up, all pre-filled with the matches and odds you need for your selected trade. It's so neat.
You do have to check a related 'Offers' page briefly, to ensure you know what you're doing with this particular bookie. But that just takes a moment, and soon becomes second nature.
And then you put on your bets, exactly as instructed.   You can see how the bets are laid out in the graphic in point 4 below.
3. The maths are on your side.
The system comes with five different strategies and not all of them are risk-free.
But it's abundantly obvious from even my initial bungled attempts that, sooner or later, I'm going to come out on top.
In a nutshell, this is accumulator arbitrage.
And occasionally — and I suspect, even more profitably — there's accumulator 'advantage betting'.
The bottom line is, if you learn to do it right (ahem!), you really can't lose.
Even after all these years of playing with arbitrage, I still find this thought tantalising.
4. Most tantalisingly of all, this may be the ultimate bookie-friendly arbitrage technique.
The biggest headache for many punters is the perennial threat of account limitation or closure.
The single largest source of new traffic to my site concerns precisely this subject: and there surely has to be a reason why.
Indeed, it's enough of a headache to cause some folks to give up on arbitrage altogether.
But then here comes Accumulator Generator… and it may just offer something very radical that could help. Because bookmakers are desperate for you to try accumulators.
The reason again comes back to maths.
If bookies win decent money on single bets, they can win obscene amounts on accumulators.
Now of course, the refund offers that Accumulator Generator exploits must cost the bookies something: or there would be no value to be had.
But a lot of your accumulators will result in a loss at the bookies and a win at the exchange — which is how every arber everywhere would like it.
Yes, there will be bookies who you take money off. So I can't prove that bookies will like you any better for doing this.
But, given that most of the trades that Accumulator Generator is throwing up are at short odds and on hot favourites, there surely has to be a decent chance that you end up looking more like the kind of mug punter they really would like you to be.
Just tonight, I embarked upon a new accumulator that included bets on Barcelona, Inter Milan and Besiktas in Turkey.
It is a fivefold at Betway containing four match odds bets priced below 1.35.
It's hard to think that a bookmaker would see a punter who behaves like this as anything but a fairly dedicated follower of betting fashion.

5. You really need to get organised. No, really.
This one is a note to self as much as anything.
US President Calvin Coolidge apparently once remarked that, "The only difference between a mob and a trained army is organisation."
Well, if I may paraphrase, the only difference between a failed accumulator and a profit is a reminder on your smartphone.
Thing is, Accumulator Generator depends, for its success, on your running each "leg" of the trade at a separate time.
Meaning, a five or sixfold can go on for several days.
Following each leg, you then have to record the result of the game in your accumulator records, and place your next lay bet, as instructed by the software.
And the lay stakes vary, depending on the previous results.
So: make a note to check in.
And pay attention with those lay stakes!
6. Is it more trouble than it's worth?
This is my biggest worry.
Accumulator Generator may make you look a mug punter but is all this study and organisation really just an elaborate way of becoming a mug arber?
What is the likely return for each hour I expend going to be?
Only time will tell with this one – and so the trial goes on.
I suspect the key is to go with some of the 'advantage play' methods, rather than the pure arbitrage ones. But I will reflect on this question in the month ahead.
And hopefully return with some satisfying trades that I am increasingly placing with a minimum of effort.
I am also starting to use Smarkets rather than Betfair in order to save on commission.  Smarkets offers a level of just 2%, which, when you're placing five or six bets in a single trade, can make a useful difference.
Impressions Summary
I feel I've scarcely ripped off the wrapping paper from Accumulator Generator. Though I have finally calmed down and started to read properly through the instruction booklet!
But I have finally get my head around the training (which is superb) and the concept (likewise).
And glory be, it's starting to get repetitive.
Hopefully this means I will be able to start churning out more profitable trades – and get past the silly beginner's errors that, I guess, we're all a little prone to.
I'll be back in early April with my next report.
In the meantime, you can read more about this remarkable piece of software here.
Lucy
---
April 2016 Update – Detailed Strategy-by-Strategy Analysis
Now that I've been using Accumulator Generator for a month, it's time for a further update.
However, rather doing this as a separate article, I've decided just to extend my initial post to add more explanatory detail.
So I have added five more sections explaining how the different trading modes work.
Because, essentially, you can use the product in five different ways. And as you'll see, I have quite strong feelings about which ones to use – and which you should avoid.
I will start with an approach that, on the face of it, looks very appealing.
Mode 1 – Lay All Selections At Once
OK, this isn't the mode you would normally start using AG with when you become a new user.
However, it is an approach that initially appealed to me.
Because it meant I wouldn't have to mess around setting reminders in my phone for the next leg of the trade to happen.
Instead, with Lay All, you simply put on your accumulator and all related lay bets in a single sitting. 
Which sounds just great. 🙂
Now, as with all AG trading modes, you begin with the Acca Matcher.
And you simply select the "Lay All" option highlighted here…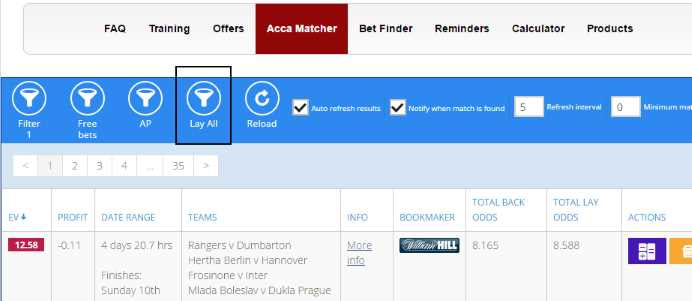 Doing so brings up a (much) reduced list of trades that are susceptible to this accelerated approach.
And when I say, "reduced list" I mean it.
At time of writing, for instance, there are just two such trades. Sometimes there are none at all.
By way of contrast, the full Acca Matcher can offer over 30 pages of options, each containing up to 20 possible accumulators!
Inevitably, this means the potential value of Lay All trades — the "EV" in the picture above — is much lower than in other modes.
So you can get it all done in a single sitting – but you may have to pick an accumulator that leaves you wondering whether it was worth it.
Another curious feature of "Lay All" trades is that they tend to produce highly variable outcomes.
For instance, the current best value option is offering the following potential returns: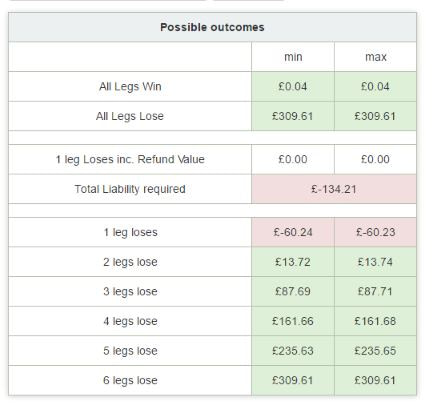 No, you haven't misread that.
If one leg loses, you will be worse off with this trade to the tune of £60.
However, if all six legs go down, you'll win over £300.
Now, Lay All trades tend to be at very short prices. So the £60 loss is far more likely to happen than the £300 win.
So this is a trade you probably wouldn't want to go anywhere near.
And frankly, I have yet to find a single Lay All trade that I really like the look of.
Of course, I may have been unlucky and logged into the system at just the wrong times.
And I did do one Lay All trade with tiny £2.50 stakes to see if I was in fact missing something.
I wasn't.
I lost 57 pence, instead of the predicted 59, when all six legs came up…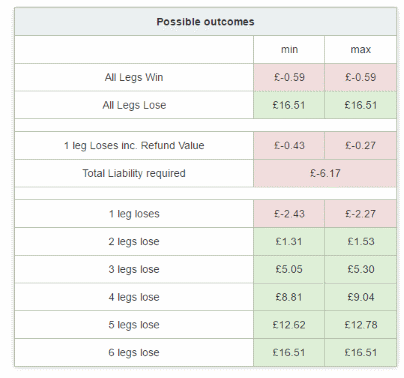 Verdict On Trading Mode One: I cannot recommend the Lay All Strategy.
The trades are too infrequent and the ones I have found sometimes come with unacceptable risks.
I love the idea of Lay All mode in principle – but I don't think it works satisfactorily in practice.
The upshot is that if you are going to use Accumulator Generator, you are probably going to have to plan your time, and accept that winning trades involve revisiting the markets a few minutes a day for the duration of your accumulator.
---
Mode Two – 'Back Lay And Hope'…
I hope I've demolished the notion that a sensible way to use Accumulator Generator is via the 'Lay All' option.
Personally, I don't think it works well enough to be a viable strategy and therefore should be discounted.
Today however we come to a much more promising mode: Back, Lay and Hope.
Now, as its name suggests, this isn't a risk-free approach. We'll come on to one of those in the next section.
However, Back, Lay and Hope is low-risk and should be profitable in the longer term as it stacks the odds firmly in your favour.
It does so by exploiting the fact that around 40% of our accumulators should finish with one leg going down. This is because we tend to be backing hot favourites at very short odds.
When one leg goes down, you should be able to extract around 80% of the value of the free bet: meaning that you bank about £40 if you've got a £50 free bet, and around £20 on a £25 offer.
When you have more than one losing legs, or indeed none at all, you'll lose a very small amount.
The basic idea is that the wins (40% of the time) should more than make up for the losses (the other 60%).
Whether or not you consider the net profits to be worth the effort… well, that's a personal decision.
One thing that may convince you is that Back, Lay and Hope involves placing fewer lay bets than several of the other strategies.
You put on your accumulator at the start then simply enter a lay bet on the first match to kick off.
If the favourite doesn't win, you stop betting. But if they do, you put a lay bet on the second match. And so on… until one of the favourites doesn't prevail.
It might make more sense with an example.
I did a B, L and H trade at Betway, looking to exploit a £25 offer. It was based on a sixfold accumulator whereby I backed the teams in bold:
Celtic v Dundee
Rayo Vallecano v Barcelona
Man City v Aston Villa
Napoli v Chievo
Feyenoord v Cambuur
Lyon v Guingamp
Having set up the accumulator at the bookmaker, I entered a lay bet on Celtic as they were the first to play.
The game ended goalless so my accumulator had failed at the first leg. As I was following the B, L and H strategy, I duly stopped laying.
I now had to hope that the other five favourites all won. And indeed they did.
I was therefore rewarded with a £25 free bet by Betway, which I managed to exploit for a profit of £19.06 after commission.
The beauty of the trade was that B, L and H minimised the amount of laying time required.
Indeed, I was very fortunate on this occasion as, if only one leg is going to go down, it's obviously preferable if it's the first one.
If Celtic had won however, I would have had to carry on laying until another leg proved to be unsuccessful.
Verdict On Trading Mode Two: I recommend Back, Lay and Hope for beginners and for occasional use with £50 offers.
You could have some reasonably long, losing runs with this strategy.
Now it's a subjective matter of course….
But, personally, if I am using a low-risk trading product such as Accumulator Generator, and putting a reasonable amount of effort into getting organised about when I put on my lay bets, I'd like to think at the end of it, I've got some profits to show for the hassle.
However, there is something very easy to follow about Back, Lay and Hope. I found that using it at the outset helped me get my head round the principles that underpin the system.
Also, the net profits arising from offsetting your winning and losing trades will be twice as big with £50 refund offers than with £25 ones, so you may feel the inconvenience of a bumpy ride is worth it in return for the better outcome.
---
Mode Three – 'Lock In A Profit, Regardless Of The Result'
Today I'd like to look at the lowest-risk strategy of the lot – one that, I think, is likely to hold broad appeal (though, as we shall see, it needs to be compared carefully to Mode 4, which I do like a lot….).
In Lock-In mode, you know, in advance, almost exactly how much money you're going to make from your acca trade.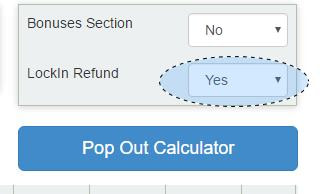 And once you're happy that the amount involved is worth your effort, you simply do as you're told until the cash is banked.
In practice, this means that you:
attempt to find a high-value accumulator using the Acca Matcher
put on your accumulator in the usual way
lay off each leg with the stakes the system advises
key the result of each match into the online calculator so it can fine-tune your lay bets as you go.
This last element means you can, in the end, get back a bit less – or indeed a bit more – than the system initially predicts. So I don't think you can conclude that Mode Three is as low-risk as conventional back-and-lay arbitrage.
Most of the accas tend to go on for a few days, during which time the prices of the later legs can move about quite a bit.
Now of course, odds can shift for or against you so the overall effect on a series of accumulators is likely to be neutral. But you do have to be prepared for a few changes.
Perhaps more seriously, because this mode is a bit dull, there's a tendency (at least with me, at any rate!) to forget to put your next lay bet on altogether. Which, of course, can mess things up no end!
Just today for instance, I was supposed to put a lay bet on Napoli in their home match against Verona.
Unfortunately, the game kicked off earlier than I thought and so, by the time I entered the lay, the game was in-play and crucially, Napoli's odds had drifted out significantly as the score remained 0-0.
Fortunately, whilst I scratched my head and wondered what to do, Napoli took the lead. Meaning that I ended up laying them at 1.13 rather than at the 1.22 figure I was hoping to get before kick-off.
Naturally this improvement in the odds worked in my favour. But it also served as a reminder, if one were needed, to get organised.
In Mode Three, you keep laying bets until two legs have gone down. Meaning that, as we are betting mainly on favourites, you do need to save a lot of reminders in your smartphone.
Verdict On Trading Mode Three: I recommend Lock In A Profit, Regardless Of The Result for highly risk-averse, well-organised folks.
The profits you make in Mode Three from any one acca will be very modest. If you make £10 from any £50 offer, you'll be doing very well.
However, there are a lot of opportunities thrown up by Accumulator Generator, so you can still make them count if you get organised.
They are repetitive but that also makes them easy to deal with once you get the hang of it.
And you will definitely want a Smarkets account, so you're only paying 2% commission – instead of the 5% that Betfair will charge you. The difference in profits can be quite remarkable.
---
Mode 4 – 'Bonuses Included'
Rather like Mode 3, the 'Bonuses Included' strategy provides a risk-free way to exploit the bookies' acca offers.
However, unlike in 3, the profit you make will vary, depending on the outcome of individual games.
And the way that this variance manifests itself is quite interesting.
As, broadly speaking, the longer you go without a losing match, the more money you will usually make.
Once again, you stop laying as soon as you reach the second losing leg. Which of course means that, the more of your selections win, the more bets you have to put on.
Now, if I am going to have to place more bets, I'd like to be rewarded for the extra effort – and glory be, Mode 4 does indeed reward you.
Take for instance an accumulator that I found on the Acca Matcher today for use at William Hill, featuring no fewer than six matches:
Benfica v Bayern Munich
Bolton v Middlesbrough
Manchester United v Aston Villa
Lanus v Atletico Rafaela
Juventus v Palermo
Arsenal v Crystal Palace.
If two of the first three games end with the favourite not winning, I will only have to put on three lay bets and then, according to Accumulator Generator, I will win around £8.
Which is very nice, but not too exciting:

However, if the first four games go with the favourite, and the fifth produces an upset, I am guaranteed a minimum profit of over £22 — either by banking a net £22.31 via a second losing leg, or by losing £17.69 after another winner but being able to exploit a £50 free bet for around £40 profit.
In this latter case, the £40 profit from the free bet will cover the £17.69 loss on the accumulator to leave me £22.31 up overall. 🙂

It follows that I am 'rewarded' with an additional £14 (£22 minus £8) for the effort expended in placing extra lay bets.
Thus the hassle of sticking with my accumulator is worth the trouble and helps maintain my interest: as I find myself cheering on the favourites to prolong the acca for as many legs as possible!
The bottom line is I really like the Bonuses Included strategy.
Verdict On Trading Mode Four: I recommend Bonuses Included for regular use, ultra-low-risk profits and additional interest and excitement!
---
Mode 5 – 'Advantage Play'
Mode 5 is quite different from the other 4 strategies within Accumulator Generator.
Because, unusually for Mike Cruickshank, Advantage Play is a pure betting method – and nothing whatsoever to do with risk-free arbitrage.
It is based on the principles that:
the value in any AG trade is created solely by the availability of a refund
laying off the acca at an exchange involves throwing some value away in the form of commission
the 'expected value' of any given acca should, in principle, be higher if you don't lay it off.
Using the Acca Matcher,, we can see this effect in action.
This accumulator at Coral's normally offers an expected value of £13.25 (assuming a £50 stake):

However, once we switch on Advantage Play, the expected value rises to £14.75 – an increase of £1.50.
This is the additional money we should expect to make, on average, just by deciding not to lay off our acca.

The key words in that last sentence were "on average".
If you decide to go into AP mode, you could, very likely, win a bit more in the long run – provided you put on enough accas for the inevitable ups and downs of betting to cancel each other out.
However, you will need to steel yourself against the inevitable losing runs.
The acca above comes with a decimal price of over 8, which means that 83% of the time, we would expect it to fail.
However, on average (those words again!), we would expect to be ahead after putting on 8 such accas.
But there are no guarantees.
In Mode 5, you could do better, worse or exactly the same as the Acca Matcher predicts.
On the plus side, as you never lay off your bets in Mode 5 it has a couple of valuable benefits:
It is a lot quicker to operate than the other modes here
It allows you to trade games that are being played at the same time – so you have access to a bigger pool of accas (some of which may be worth more)
You don't need to hold money in an exchange account.
Verdict On Trading Mode Five: I recommend Advantage Play for seasoned punters only who are coming to Accumulator Generator from a pure betting background. Novices please avoid!
---
Overall Conclusion
Thus concludes one of the longest reviews ever published here at Lay Back.
However, I think Accumulator Generator probably deserves this much scrutiny as it is both very clever and very involved.
If I may summarise my take on the five strategies, I think it becomes clear that some modes are very definitely more useful than others:
Mode 1 – Lay All Selections At Once – not recommended
Mode 2 – Back Lay & Hope – suitable for beginner: but probably best used as 'training wheels' only
Mode 3 – Lock In A Profit – likely to appeal to highly risk-averse users, but deadly dull to live with
Mode 4 – Bonuses Included – my favourite strategy as it is ultra low-risk and rewards patience
Mode 5 – Advantage Play – for experienced users and seasoned value punters only. Handle with care!
In practice, I will probably stick mainly with Mode 4, however the availability of different options undoubtedly increases the product's flexibility and will broaden its appeal.
More generally, I have to commend Mike Cruickshank for the quality of the training videos and indeed the whole package.  AG isn't cheap but it is beautifully put together.
I therefore have no hesitation in awarding a Pass mark to Accumulator Generator.
You can find out more about the product and its current availability by clicking here.
Lucy