OddsMonkey has, for a very long time, been both everywhere and nowhere.
You see, their traditional strategy has been to supply tools to other third-party providers.
So established arbitrage players like Profit Maximiser have all at various times — to use that ugly but ubiquitous term — been "powered" by Oddsmonkey.
In fact, they claim their product is used by no fewer than 70 matched betting sites. I didn't even know there were that many!
Personally, I'd have thought that working this way was a bit frustrating.
Seriously, wouldn't you want to stick your head out from behind the curtain every now and again to point out that the magician had been you all along!?
Well now, Oddsmonkey have decided to do precisely that…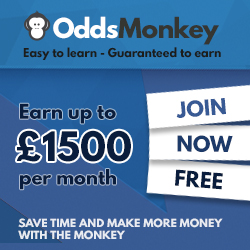 According to Craig at Oddsmonkey, "We've never really tried to promote ourselves until now".
And he added intriguingly that, "We've developed some new tools that are only available on OddsMonkey", asking whether I'd be interested in taking a look?
Is a shoe shop a source of retail therapy!?
Of course I'd be interested!
As I understand it, you really get three things when you subscribe to Oddsmonkey…
1. The Odds Matching Tool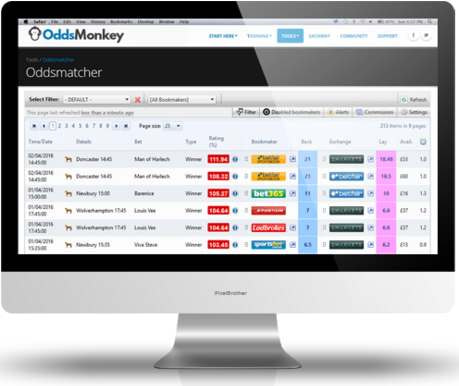 You may well recognise the layout from one of those 70 sites.
It offers a clean, straightforward interface that has become something of an industry standard.
2. "Over 100 step-by-step video tutorials and easy-to-understand guides" – or so it says here. 🙂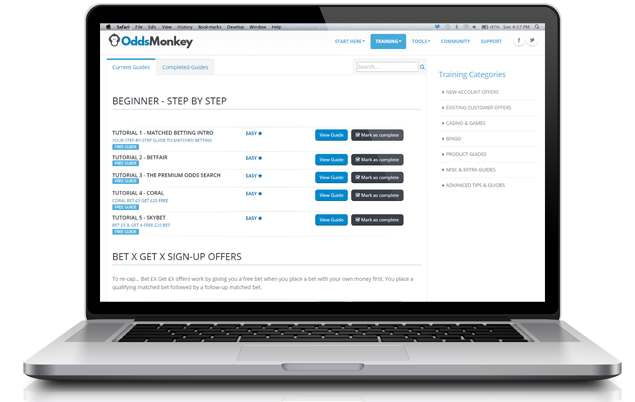 I gather there's a combination of video and text that is unlikely to leave anyone clamouring for more.
3. Daily Offer Calendar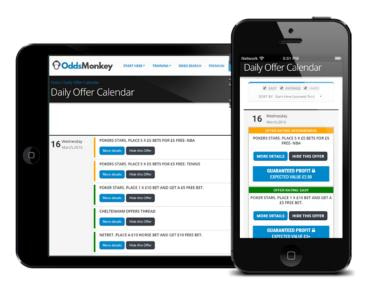 This is the bit that is likely to appeal to advanced users.
In addition to some pretty impressive up-to-the-minute information, including a snazzy smartphone app, you get support from an "awesome online community" .
I'm already pretty sure that Oddsmonkey is a mature, matched betting application suitable for anyone serious about extracting as much low-risk cash as possible from the bookmakers.
However, I'm going to trial it anyway, if only because I'm intrigued to find out about the new features that haven't been shared with other sites.
I'll be back in a couple of weeks or so with an update.
In the meantime, you can find out more about Oddsmonkey over here.
My First Impressions
There is nothing quite like a series of failed tipster trials to make matched betting appealing again.
Because, in a year when all I seem to have done is fail betting systems, products like this one stand out as the obvious way to extract regular profits from the markets.
And I have to say, it does looks really good….
In a sentence, Oddsmonkey is a comprehensive guide to matched betting that assumes absolutely no prior knowledge on the part of the user.
Unlike most betting systems, it has not been put together by an isolated punter and/or marketing specialist who believes, rightly or wrongly, that he has 'cracked the betting code' [Note – I have clearly read too many betting system sales pages!].
No, this service has apparently been developed by a team of no fewer than twelve people, sitting in an office on a business park somewhere in County Durham, building industrial scale matched betting applications.
Once you sign up, you work through a series of training exercises that guide you through the basic concepts and get you placing your first matched bets in no time.
It's obvious where to start as, wherever you go on the site, there is a 'Start Here' menu option at the top.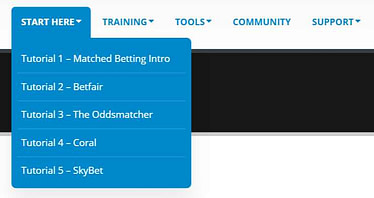 Once you've opened your first couple of accounts and learned how to use the very flexible Oddsmatcher tool, you move into the more advanced training sections, which group matched betting offers into sensible categories.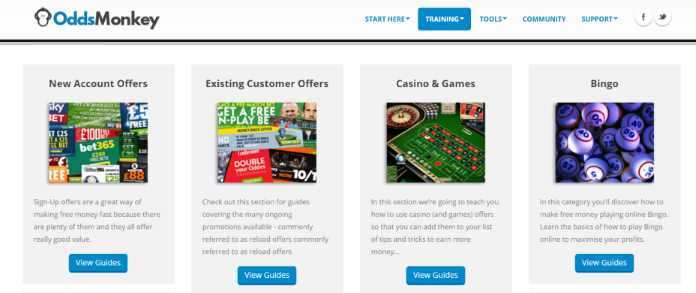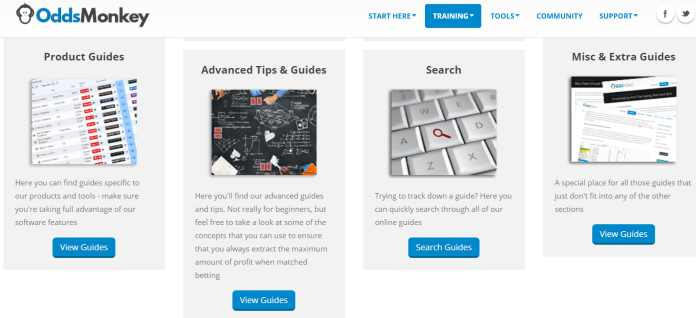 The guides within each category are graded by difficulty so you can decide quickly which ones you're ready for and which you'd prefer to come back to later.
You can also mark individual sections as complete, to help you keep track of those bits you've previously covered. This is a remarkably practical feature in such a comprehensive product as it saves you getting muddled up when dipping in and out: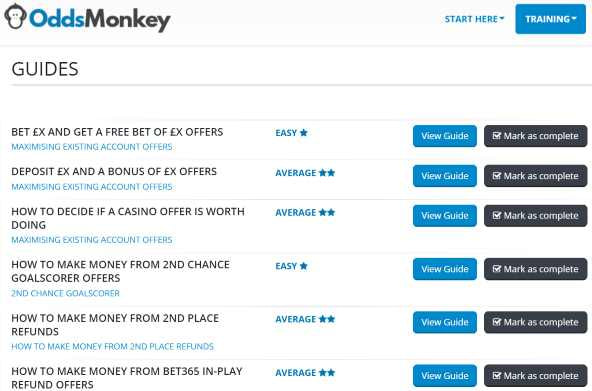 There's also a handy Search facility in case you remember that there was a guide you'd like to go back to, but just can't find your way there.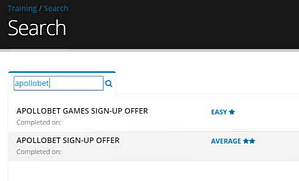 The really impressive bit however is the toolkit. I shall explore the toolkit in more detail in later on but for now, let me just stress… there are a lot of very powerful tools in this product.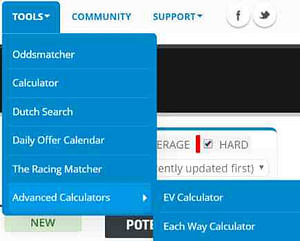 In effect, if you get involved with OddsMonkey, you are getting several products in one. It's huge.
My current favourite feature, that helps me overcome the risk of overwhelm, is the Daily Offer Calendar.
It really does help sort out which offers you should be looking at today.
And it provides helpful links back into the other relevant tools and guides so you can refresh your memory on how best to exploit the offers.
Here, for instance, is today's calendar..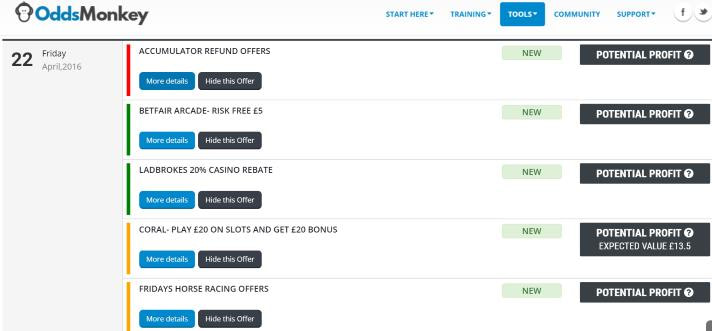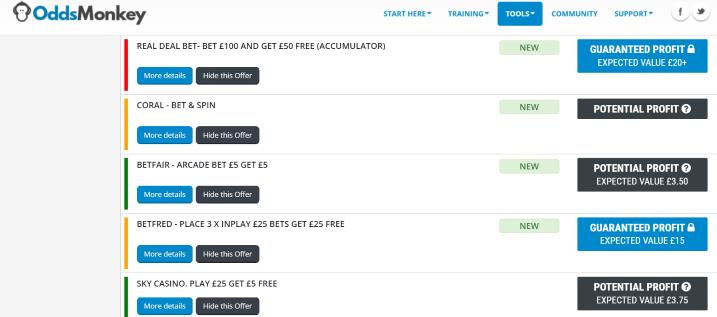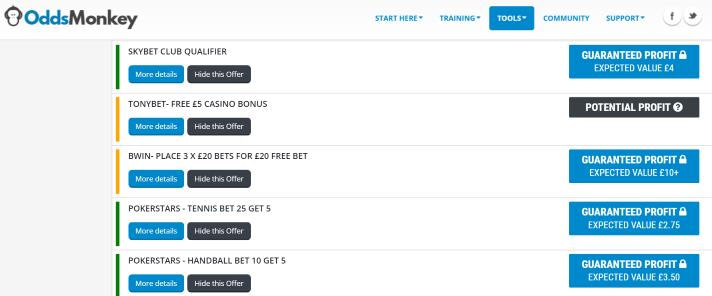 And that is just for one day!
Hopefully by now, you're getting an idea of just how comprehensive this is.
I'm pretty confident that anybody with an organised approach and an internet-connected computer could quickly get to grips with Oddsmonkey and start making regular profits.
This may seem a remarkably straightforward conclusion — especially in view of how many lousy products I've looked at this year — but it's going to be extremely difficult for me to break what is obviously a well-oiled machine.
So … is there anything wrong with it?
Well, there are a couple of things that could be improved, I suppose.
Firstly, I feel OddsMonkey would be further enhanced with the inclusion of video.
Most of the training, though clear and well-illustrated, is text-based. And I know some readers prefer to have things demonstrated graphically.
And secondly, the Community element is still at an early stage. But there is every reason to believe it will grow over time as OddsMonkey acquires new members.
And finally, well, I haven't rigorously tested all the tools yet… so I'll look at them in a later update. But I suppose I may yet find things to grumble about there. But so far, they've all worked just fine. 🙂
So I have to say – I am finally enjoying a trial… and I'll be back in a couple of weeks or so with more.
Meanwhile, you can read more about Oddsmonkey here.
Update: 26th April
I've spent most of the last two afternoons in an unreal world!
I've been aware, for quite some time, that there is money to be made from online games such as slots and blackjack but…. well, I must confess to a bias.
You see, I am put off by the sheer childishness of the whole silly business.
Do grown adults seriously spend their time doing this?
Apparently so.
And these diversions are presumably good money-spinners for the bookies as they'll even give you free money as an inducement to suck you in.
Now, as is probably clear by now, I am very taken with OddsMonkey. So I thought… maybe, at last, the time has come.
With the help of its expert guides, surely even I could extract cash from the nonsensical world of online gambling games.
And indeed, my first ever sortie into this most surreal part of the online gambling world came out very well.
OddsMonkey highlighted an appealing offer at BoyleSports which involved the following steps:
Visiting BoyleSports Games
Depositing £5
Playing through the £5 at minimum stakes (25p a go)
Being prepared to risk the entire fiver, safe in the knowledge you'd get it back if you lost the lot
Stopping at any time when your balance significantly exceeded £5.
And my goodness, it was weird.
I found a mind-numbing game called Fountain of Youth and clicked and clicked and clicked some more.
Very quickly my £5 dwindled towards nothing. I could barely wait for the whole torturous business to end.
Then, having barely extracted a penny from the Irish bookie, my PC sang out a sudden smug tune and announced I had won £31.25.
This brought my balance to £33, including the original fiver, so apparently this whole ludicrous nonsense had been worth £28!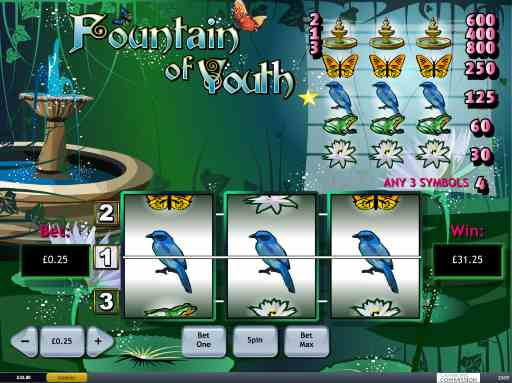 Naturally, I stopped playing at once and withdrew my winnings.
Smug was indeed the word for the way I suddenly felt. 🙂
I have no idea how I did this so please don't ask me what my strategy was.
I have sat through dreadful losing runs and equally glorious winning sequences when testing systems here at Lay Back. There have been endless days of drama.
But, in an odd sort of way, nothing quite comes close to the madness that is betting on online games. It injects you into a feverish world of barmy, live cartoons where you half-forget you're using real money.
But yes, OddsMonkey shows you how to do it. And yes, it works.
I just love OddsMonkey – but I shall stick, in future, to the grown-up stuff!
I'll be back with my final Oddsmonkey report in a couple of weeks.
Update: 22nd May
It's very rare that I get to trial a product about which I have no reservations at all.
Most betting services, in my experience, contain a mix of good, average and poor features of various types, all combined in different ways. 🙂
OddsMonkey, however, is different.
It's beautifully designed, logically laid out, simple to use and powered by a range of comprehensive and thoroughly proven tools.
Support levels are excellent, plus it's extremely good value and, most importantly, very profitable.
Seriously, what is there not to like about OddsMonkey!?
So clearly – it's going to earn a Pass mark from me. But I wanted to do better than that in my trial conclusion.
Here then is my list of reasons why I think OddsMonkey is a truly special matched betting service….
OddsMonkey is special because…
1. Unlike many matched betting services, OddsMonkey's service is driven by software that was developed and maintained by an in-house technical team over 5 years. This kind of expertise almost guarantees great levels of support.
2. Several of the software tools have long been used by other service providers: giving the OddsMonkey team an extended opportunity to enhance and prove their reliability and quality.
Thus, although OddsMonkey may be a relatively new name in the matched betting world, their software has been constantly added to over time to satisfy real customer needs.
3. OddsMonkey offers direct links to many bookmakers and exchanges, making trading much faster – and saving you from having to hunt around to find the right match or race on which to place your bets.
Where direct links are unavailable, OddsMonkey usually supplies details of the particular event (league, country etc.) so that you do not have to know anything about sport in order to get involved.
4. Customers can save favourite search filters to be reused later and set up alerts so that they'll be emailed when opportunities they'll be interested in become available.
5. The service is driven by a powerful Daily Offer Calendar that I have found to be extremely user friendly and fully mobile responsive.
There really is no need to feel overwhelmed when the service guides you so clearly each day to where you need to go: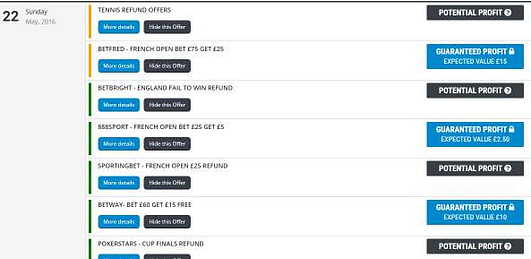 6. You also get a wonderful tool called the Racing Matcher, which maps bookmaker offers to specific courses and races.
This helps you work through the opportunities that apply across the daily race card in a structured way. You don't need to miss a thing.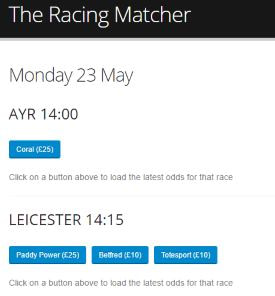 7. OddsMonkey offers powerful dutching search software as part of the premium membership. (And yes, it supports stake rounding to mask arbs from bookmakers).
8. You can easily disable a bookmaker for a period of time or indefinitely – so there's no need to be presented with opportunities that don't work for you.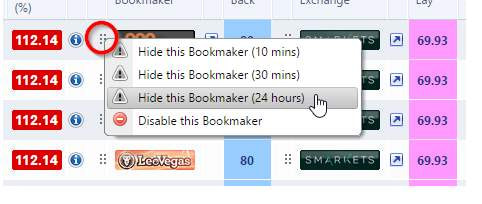 9. The OddsMonkey calculator offers a visual breakdown of exactly where your money ends up, no matter whether your back bet wins or loses. This could prove very helpful for beginners trying to grasp the initial concept.

10. The integrated calculator will warn you if there is less money available at the exchange than you require to fulfil your trade.

11. You can customise your commission settings so that you see accurate opportunity ratings and profit figures.
12. By default OddsMonkey will hide all bookmakers from UK residents where the bookie isn't permitted to trade in the UK market.
You can however choose to override this option in the Oddsmatcher settings panel.
You can also configure other settings to fine tune your search results – with the settings being explained as you hover over the information icon:

13. The standalone calculator is currently being amended to include functionality to enter part lays for use when not all your original lay was matched.
OddsMonkey tell me that this undoubtedly useful feature with be available 'within a few days'. It is this kind of helpful detail that makes the service stand out.
Summary
I frequently despair of the poor quality of many of the products I get to test. And in particular, there have been times when I have started to wonder if I am completely wasting my time.
OddsMonkey has therefore been an absolute breath of fresh air. To say it is the best product I have tested to date this year is selling it short. It is miles ahead of anything else I've trialled.
This is emphatically not a product aimed solely at beginners. There are so many ways to profit here that I can scarcely believe the price – just £15 per month.
Awarding a Pass mark is therefore an easy and pleasurable decision.
If you've not looked at it, I strongly recommend you do so – right now, right here.
You won't regret it.